With reductions in staff funding and an increasing number of clients who are eligible for Legal Aid services, LASC simply cannot meet this need alone.
Please see the individual pages for more information on how to get involved by one or more of the following:
Accepting a case through one of our Referral Projects such as the Volunteer Resource Center;
Attending a Brief Advice and Referral clinic;
Assisting clients at a Brief Service Clinic; or
Volunteering part-time with one of our In-house Teams.
LASC offers several benefits to its volunteers:
Training
Malpractice Coverage
Mentors
CLE Credit for your volunteer hours (starting 1/1/2014)
Attorneys who handle pro bono case referrals or who provide legal advice to pro bono clients must be active and in good standing with the Ohio Supreme Court. We have additional opportunities for corporate counsel, law students, paralegals, and other community members.
Thank you for your interest in contributing to the work of The Legal Aid Society of Columbus!
Each year, we create a Private Attorney Involvement Plan. Our pro bono projects are crafted to allow volunteers to provide services to our low-income clients in a manner that is compatible with the volunteer's available time commitment, his or her substantive areas of legal practice, and the needs of the local community. If you, local bar association, or courts have an interest in volunteering but do not see an opportunity described in the enclosed plan that meets your interests, time, or needs, let us know.
---
Pro Bono work offers new attorneys experience and the opportunity to make a tangible difference in client lives.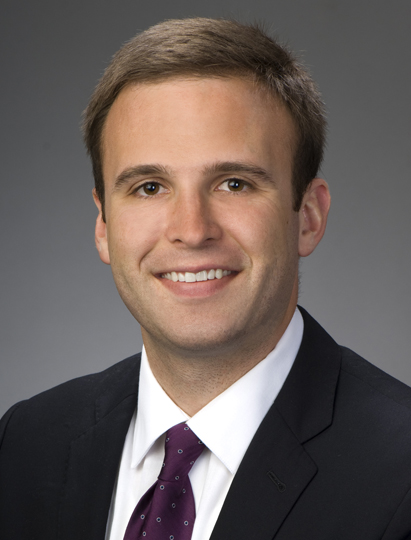 Hours after his swearing-in ceremony on November 4, 2013, Bricker & Eckler associate Dylan Borchers appeared in Bellefontaine Municipal Court. This was anything but a slam dunk case: Dylan was representing a homeless woman fighting to have her criminal record sealed.
The client, whom we will call "Stephanie" for the purpose of sharing her story publicly, had been wrongfully named as a criminal defendant in 2010 when a warrant was issued because the person who was arrested gave her name. Once the police realized the wrongful identity, the warrant was dismissed. Several years passed without incident when the warrant suddenly appeared on Stephanie's criminal record. Her employer, having conducted a random criminal records search, saw that she had a record and fired her. After that point, she struggled to obtain employment but continued to be dismissed from various part-time positions because of her "criminal" background. Responsible for four small children and unable to find permanent work, Stephanie temporarily sought shelter at the YWCA Family Center. While there, she met Dylan at a brief advice legal clinic co-sponsored by the YWCA and LASC. Recognizing the unfairness of Stephanie's predicament and her struggle for stability, Dylan agreed to assist her with sealing her record.
With assistance from Dylan, Stephanie completed and filed an expungement affidavit, but the City prosecutor objected to the sealing of her record. Dylan researched expungement cases and amassed a number of good precedents in her favor. When the prosecutor sought proof of Stephanie's "rehabilitation", Dylan interviewed several character witnesses at their homes and prepared their sworn statements.
At the hearing, Dylan argued both in chambers and on the record that the expungement should be granted. In addition to the facts argued from the police arrest records and the law, he presented the statements of the character witnesses. Ultimately he successfully convinced the court that the expungement should be granted.
Stephanie was ecstatic. This result meant that she could accept a new position that had been contingent on the expungement and that her ability to secure future employment would not be met with the same challenges. Moreover, with the new job, Stephanie was able to transition her family out of homelessness.
Dylan's story is one of many that show how enthusiastic and empathetic new lawyers can have a great impact on the lives of low-income families. He is fortunate to have the support of a law firm that places a strong emphasis on volunteerism, but his story should resonate with anyone who feels that lack of experience impedes pro bono participation. In fact, the reality is that pro bono work can offer new advocates the ability to litigate on behalf of clients with debilitating legal issues with the training, support, and malpractice coverage of LASC. We hope Dylan's story will serve as an inspiration to others who may be hesitant to reach out.
---
LASC BIDS FAREWELL TO A LONGSTANDING AND SUCCESSFUL CLINIC
On Monday, March 10th, the brief advice clinic at Christian Assembly Church and Threshold Community Center will hold its final clinic.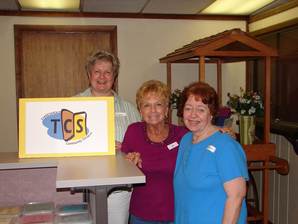 For five years, low-income people in the Northland area had access to volunteer attorneys every second Monday evening of the month. Clinic Coordinator Ellen Queen initiated the clinic after being approached by She'lia Bolding from the Columbus Bar Association and attending an orientation conducted by Drew Campbell and Anthony Sharret. Ellen reflects on her motivation: "I loved the concept of providing legal resources to those who couldn't afford them. Through no fault of their own, people find themselves in the need of an advocate, someone who can go to bat for them or provide them with the tools and knowledge they need to resolve their dilemmas." In Ellen's case, her faith also played a large role: "As Christians, we are called to speak up for justice and assist those whose rights are being violated. As a church, we were looking for ways to benefit our community and build bridges of friendship."
Ellen has run the clinic with efficiency, kindness and professionalism—organizing volunteers to help with set-up and tear-down, security, refreshments, and intake. With sponsorship from the Columbus Bar Association and Legal Aid Society of Columbus, the clinic served indigent people on the brink of crisis: women facing domestic violence, families fearful of imminent homelessness, and elderly individuals immobilized by creditor harassment. When they arrived at the site, clients were met with a warm greeting from intake volunteers, a friendly conversation while they waited, and a snack or toys for their children.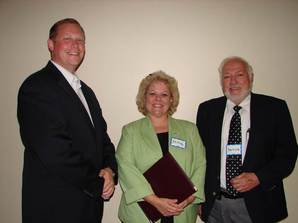 It is impossible to adequately recognize everyone who played a role in making this clinic a success, but LASC wishes to thank Diana Severance for her intake assistance and church volunteers Gina Law, Kelley McGruder, Libby Streamer, and Sharon Thrower. Pro Bono attorneys included, but were certainly not limited to, Andrew Zamensky, Ryan Welker, Nita Hanson, Todd Fichtenberg, Sally and David Bloomfield, Narcus Tsiliacos, Dean Reinhard, Paul Bryson, Daniel Skinner, Joel Campbell, Brandon Sewell, and Rick Piatt. Many others contributed by recruiting volunteers, attending a clinic or accepting a pro bono case referred by the clinic, but two in particular should be mentioned: Richard Parsons and Ray Pantle have volunteered since the clinic's inception and both experienced the "honor" of being the lone attorney on a given evening. On one infamous night, Ray met with 18 clients…unwilling to turn anyone away who had arrived with the hope of having his or her questions answered.
The Northland clinic was a success because of the commitment of volunteers. Nearly 450 clients were served because of the commitment of volunteers. And the community will undoubtedly feel a sense of loss when the doors close on Monday the 10th.
But the story is not over. LASC is working on new chapter -- a new Northland site where we can staff a monthly brief advice clinic for the low-income population in the Northland and adjacent neighborhoods. If you would like to be a part of this ongoing story, contact Dianna Parker Howie at This email address is being protected from spambots. You need JavaScript enabled to view it..
---